Product Details
Holographic film/Laser Holographic film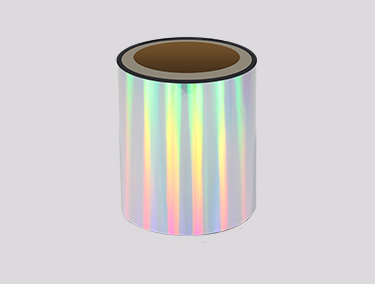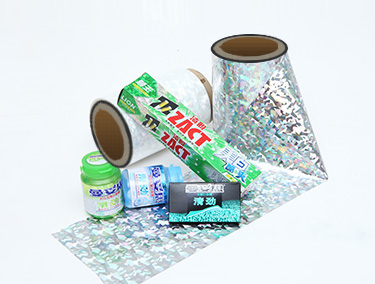 PET Holographic film
Pet hologram film is Using polyethylene as carrier, as Pet material stability, good printability and meet environmental requirements, so PET laser film is currently the most widely used and the largest amount of material on the market, which can be laminated to cardboard to make various type of packing boxes, handbags after printing. It also can be used in the market for providing flexible packaging, such as food packaging, flexible packaging or tube packaging.Include laminate pet holographci film and transfer pet holographic film.Our pet holographic film(or named hologram film,laser film) include seamless,shimless,shimline free,with seam.it is suit for laminate with paperboard for offset print(UV print).
BOPP Holographic film
BOPP itself is soft, very suitable for cardboard composition. Although the OPP printability is not as good as PET and PVC material, but it was improved by surface treatment, which made substantial progress, the customer is very easy to do fine print. Common applications include wrapping paper, making paper bags, cartons after lamination and printing. Meanwhile it can replace the traditional OPP film production for flexible packages.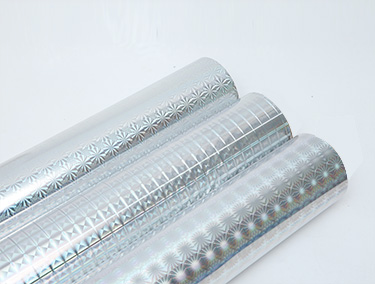 PVC Holographic film
PVC has a very good printability, therefore there are still considerable applications on printing.our seamless PVC holographic film is more often made ​​of various Christmas decorations, scrolls, PVC sticker label,greeting cards and so on.
Transparent Hologrpahic film with Zns metallization
Laser pattern cannot easily be mopped after plating media, holographic transparent film which can cover and protect the object surface and still can see the surface content through this high gloss film with the change in color of the laser light refraction patterns, the coating can protect the document for a long time and you can repeated use. Furthermore, the holographic pattern bring the security function to increase your product value-added.
Holography is the process by which Three Dimensional Visual Information is Recorded, Stored and Replayed.
A Hologram refers to the "Flat Picture" that displays a "Multi Dimensional Image" under proper illumination.
Unlike any Photograph, a Holographic image has "Parallex" i.e. the Ability to be Seen from Many Angles and Depth - just like we see things in real life.
When a Beam of Light strikes a Hologram at the proper angle, a Multi-dimensional Image will appear - Direct Sunlight or a Single Overhead Spotlight is the best way to illuminate Holograms with deep Imagery.
Embossed Holograms, with their Shallower Imagery, can be viewed when lighting is less than ideal - under Fluorescent light etc.
Holograms are made using Precision Optical and special Photosensitive Materials, which are exposed with Laser Light. After the first Hologram is made in the Laboratory (Known as the MASTER), the Holographic Image can be copied repeatedly on a variety of formats, depending on the intended applications and required quantities.
For a large amount of Holograms to be produced in a Cost Effective manner, a method was developed to Emboss very complex microscopic patterns onto rolls of very thin Plastic or Foil Materials. Light Diffracts through these patterns to Create the Holographic Image. Embossed Holograms Can Not Be Copied using Normal Printing and Copying Technologies.
These Holograms display a Three Dimensional Image which looks identical to a Real Object. The viewer can literally "Look Around" the "Top" and "Sides" of the Object just as if the actual object was there. A 3D Hologram is a "Spectacular" thing to watch and people are fascinated.Security Holograms
Promotional Holograms ,Holographic Taggers,Holographic Adhesive & Stamping Tapes ,Holographic Shrink Sleeves,Textile Holograms ,Hot Stamping Holograms ,Holographic Laminates,Holographic Packaging Films ,Holographic Gift Wraps and many other productsgold hologram paper,bopp holographic film transparent,BOPP holographic film lamination film plain,printable holographic paper ,holographic lamination film.